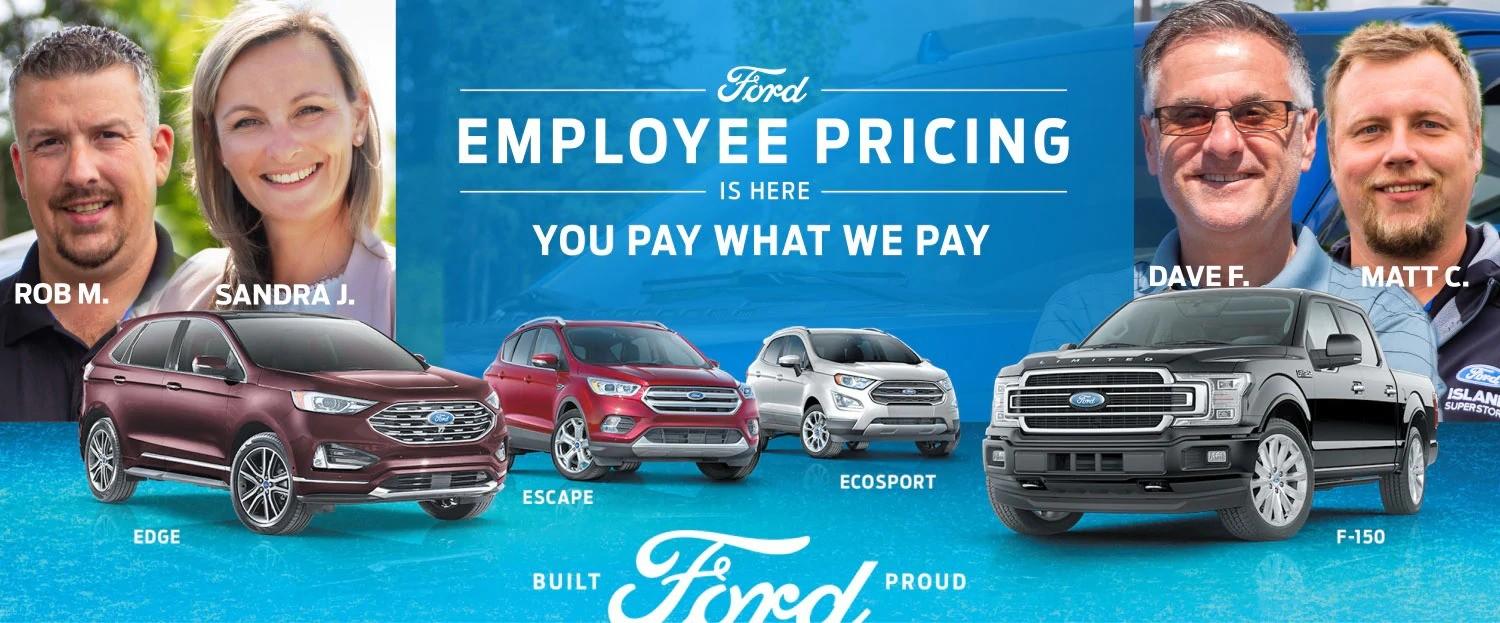 2019 Employee Pricing is Here
We're coming to the end of Ford's 14th year running Employee Pricing! It's one of Ford's biggest events and we've put everything we've learned over that time into creating our most compelling campaign yet.
From the employees in our dealership, to the assembly workers in Ford's plants we want everyone to share the pride that comes with working with Ford. And we want our customers to feel that pride and further demonstrate to them how Ford vehicles can help make their day to day life easier.
It's also the time of year that makes it even easier to sell a Ford. Since everyone gets employee pricing, there's more transparency and less need for negotiation. It's an opportunity to focus on our customers' needs, to deliver the best shopping experience, and to make them feel the genuine pride that comes with owning a Ford.
At Island Ford, we offer transparent pricing, so what you see on the website is what you will pay plus applicable taxes and DOC fee.
Now what are you waiting for? You're going to want to start researching your perfect vehicle today because just like summer Employee Pricing will be ending soon! We offer you real photos to make the researching process easier. With expertly done YouTube videos, you can get a sense of what it's like to sit in the driver's seat before you test drive the real thing!
Book your test drive below & take advantage of Employee Pricing
At Island Ford we are going all out for Employee Pricing. Feel like part of the family whether you are shopping new, pre-owned, or even if you need to come in for service. Our Employee Pricing deals will help you get into the perfect vehicle for your budget, or keep your current vehicle running optimally. Claim your Employee pricing Service Offer below, or check out our selection of vehicles.